Some cleaners feel like using a checklist is beneath them. It can feel like you're being told you can't be trusted to do your job well when you're given a list of tasks to perform.
That's how surgeons around the world felt. They trained for years in medical school and during their residencies to perform surgery. Using a checklist definitely felt like it was beneath them.
And yet, essential tasks did get missed all the time, and a checklist was proposed as the best way to avoid them. Grudgingly, surgeons at hospitals around the world agreed to try a new surgical safety checklist to reduce complications and deaths,. The World Health Organization announced the results in 2009: the checklist reduced the number of complications by 34% and the number of deaths by more than 40%.
In other words? Even when someone's life is at stake, exceptionally-trained people sometimes forget critical tasks. Checklists keep us from those little human errors that can have big consequences.
Why do checklists work so well? According to Atul Gawande, the author of The Checklist Manifesto, it's because human error interferes constantly with our ability to carry out a succession of tasks - even if we are highly trained to perform those tasks.
We're sure you're excellent at your job and that you're fully aware of the importance of a great clean to a guest's experience. During a crisis like this one, you're probably even more aware that your job is essential to a guest's safety, and so you're definitely going to doing your work to the utmost of your ability.
Implementing checklists drops the number of errors dramatically. To check an item off our list, we have to pause in real time, and ask ourselves whether we've completed the task. If we ask ourselves later, we might forget. Did you lock your front door this morning? You probably did. But are you sure?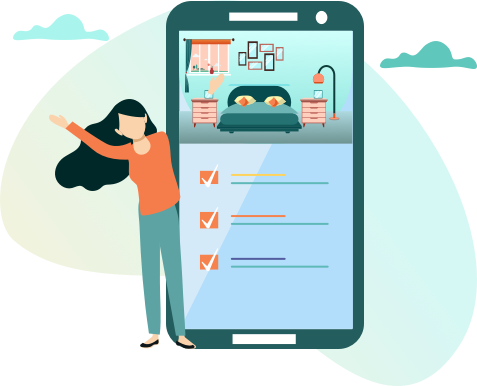 Now imagine I asked you the same question this morning immediately after you left the house. If you had locked the door, you'd confidently say yes. If you hadn't, you'd say "oh, wow, I forgot! Thanks for reminding me!"
That's exactly how Properly works to help you at your job. If you've already performed the task, you can check it off with confidence (and with one hand - the Properly app is super easy to use on the fly). If you forgot the task - which happens to the best of us - the checklist will remind you.
During the COVID-19 outbreak, you'll also be asked to do additional tasks you're not accustomed to. Disinfection takes additional time and specific supplies. Visual checklists like Properly's show you exactly what needs to be done, so it's easy to complete a task even if you're unfamiliar with it.